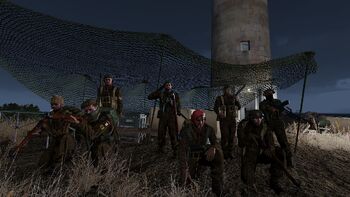 No. 49 Commando
was a British Army commando unit formed in 1943 during the Second World War, composed of volunteers from Southern Command. Although it was formed to conduct raids and surprise attacks, it was known to participate in rescue missions.
Stuff about Operation Nimbus---
On August 1, 1944, No. 49 Commando was tasked with destroying a German garrison on the Greek island of Lefkada, which was holding shipments of weapons and supplies bound to support the German front lines deep within Greece. However, following the loss of Captain Wayne Harvey during Operation Nimbus, intelligence found that the captain was captured alive and taken to Lefkada; resulting in the secondary objective of rescuing the captive and any remaining survivors. At 2100 hours, Eastern European Time, No. 49 Commando landed on the Greek island and successfully destroyed the targeted shipments, and further silenced numerous gun batteries within the German garrison.
The destruction of the shipments was the only successful phase of the operation, following the death of Captain Wayne Harvey prior to reaching the extraction point. No. 49 Commando suffered heavy losses falling back to the German garrison they had seized, and were eventually overwhelmed by German reinforcements while holding the garrison. The fate of the No. 49 Commando remains unknown.
Background
TBA
Operational History
Operation Nimbus
Main Page: Operation Nimbus
TBA
Operation Whiskey
Main Page: Operation Whiskey
TBA (Not summary, but overall objective of the operation and result.)